Grab Hire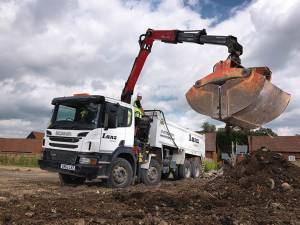 We were approached by an associate company who found running several grab lorry's on their vehicle fleet was no longer effective, and asked if Lanz Group would be their preferred "first port of call" whenever one of their customers required a grab load of material to be collected and safely recycled or delivered to landfill.
In today's competitive market, our reputation and quality of service is extremely important to us so fortunately our associates felt safe to trust Lanz Group with their existing customers whilst still maintaining a service as if it were their own vehicles.
Of course, working as a sub-contractor means we had to be competitive in price but proactive to supplying their customer needs.  At Lanz Group, we are deeply committed to providing the best solutions and value for money. That doesn't always mean being the cheapest – but it does mean that we deliver the best service for the project.
Since forming this alliance with our associates, we have received many compliments about our drivers and the quality of service they provide. The fruitfulness of our business relationship with our competitor and other businesses has enabled Lanz Group to place an order for a new tipper grab to further enhance this service.