Lanz Group is proud to announce that we have been awarded ISO 9001 certification for Quality Management. We earned this highly respected and difficult to achieve accreditation from the British Standards Institution (BSI) in December 2017.
The work required to achieve this significant milestone is the result of our company team effort. Working together has enabled us to achieve ISO 9001 accreditation.
About ISO 9001 Certification from the BSI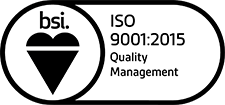 According to the British Standard Institution, ISO 9001 is the internationally recognized Quality Management System (QMS) standard focused on the following processes:
Continually improve, streamline operations and reduce costs
Win more business and compete in tenders
Satisfy more customers
Be more resilient and build a sustainable business
Demonstrate strong corporate governance
Work effectively with stakeholders and the supply chain
Our History of Quality Certification
In the waste management business since 1943, Lanz Group has long been committed to maintaining the highest standards of quality and customer service.
Prior to earning ISO 9001 certification, Lanz had already achieved OHSAS 18001 accreditation which focuses on occupational health and safety management. In 2013, Lanz Group formally received ISO 14001 Environmental Management accreditation. These achievements reflect our deep focus on quality. We're dedicated to creating a safe and rewarding workplace for our team offering quality and value-for-money services for our customers across the Thames Valley.
For companies interested in hiring our services, we invite you to contact us to review the full complement of our certifications and licenses.
Waste Management Services – Bespoke to Your Needs
Family-owned, third generation – Lanz Group, a leading waste management service based in Colnbrook, Slough, Berkshire on the doorstep of London Heathrow. We would be delighted to help with your waste management, skip hire, and tipper hire needs. We invite you to call us on 01753 682005, or alternatively click on the button below to request a quote from us.